I inherited my love of cooking from my father. My mother is good at many, many things, but she struggles even to turn on the oven, so it's a good thing my dad loves cooking or we all would have starved. My father inherited his love of cooking from his mother, who seems like she's about 50 but is actually 92 and is totally my idol. She probably deserves her own post.
Anyway, my grandparents and / or parents host most of the holidays, but because I love cooking Thanksgiving food and any excuse to have people over, my husband and I had a little pre–Thanksgiving dinner yesterday afternoon. I love that traditional menu and cannot understand why we only have it once a year. Turkey every week, I say.
It's also a nice dig at this whole Thanksgiving–is–just–a–precursor–to–Christmas mentality it seems like everyone's gotten into. Seriously, the Starbucks cup drama? The only thing I find offensive is that they've already traded the fall cup for Christmas. Why does Thanksgiving have to be the red–headed stepchild of holidays? Okay, getting off my soapbox now.
The planning portion of the big day started Halloween weekend, when I was nailing down a guest list and figuring out seating for 11–13 adults and 3 kids. The baking and cooking started Friday night with cornbread muffins for the stuffing.
Apologies for the total lack of pictures, but no one in my "real life" knows I blog, and I'm sure they would've thought it strange for me to photograph each dish as it came out of the oven.
I did get a picture of the totally lazy appetizers (Triscuits, smokehouse almonds, roasted pumpkin seeds). I had to streamline something so I could enjoy a little wine before things got crazy.
I printed a few thanksgiving coloring sheets for the kids. They still prefer to play with every single breakable item within their reach, mind you, but one of the few perks of being childless is having nice things on shelves lower than eye level, so no apologies here.
I kept the table simple, mostly because it was huge (table + card table but I spared you the horror).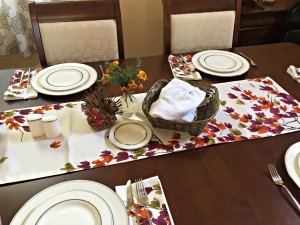 Kidding. Horror ensues. What can one do? It's not my fault my parents kept having kids.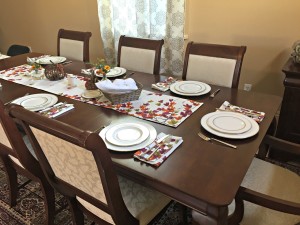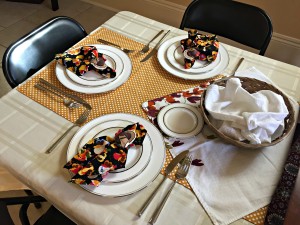 I'm one of four, which really isn't that many, but once you add significant others . . . it gets crowded. Thank goodness our extended family is small.
I was in charge of planning, grocery shopping, decorating, wine decanting, and every food item except for one.
My husband was in charge of the turkey. He smoked it in his Weber smoker. I know what you're thinking—doesn't smoking a turkey make it taste like barbecue or something? Ewww. The answer is no. I mean, I guess you could make that happen if you wanted to, but as long as you're careful with the flavors you use in the brine and the rub, you can get a very juicy, very flavorful turkey that still feels traditional.
The rest of the menu looked a little something like this:
I baked French bread, too, but that happens almost every week around here because I've never met a carbohydrate I couldn't form an emotional attachment with.
For dessert, I made pumpkin pie with stabilized spiced whipped cream, courtesy of Stephen Andrew and his hilarious blog. It was delicious. And I'd never bothered to make my own pastry crust before—I know, I know, I am ashamed it took this long—but it was delightful and relaxing and I will never go back to storebought crust again. I also whipped up a batch of this toffee for the non–pumpkin pie eaters (but seriously, what is wrong with those people?).
And now? Now we wash dishes and eat leftovers.
And the turkey stock. Don't forget the turkey stock.
Seriously, though—stuffing suggestions? It's never too early to start planning for next year.