Read more about why I love CSA and locally–grown fruits and veggies here.
This week's box:
4 peppers
2 eggplant
3 red potatoes
okra
3 bell peppers
4 gala apples
acorn squash
turnips
kombucha
A la carte items: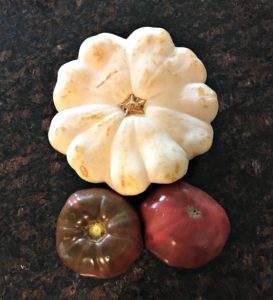 patty pan squash
2 heirloom tomatoes
My total was $34 even.
Pretty much all of the items in this week's box went into spaghetti sauce. My spaghetti sauce recipe tends to be ground turkey + onions and garlic + tomatoes + all the vegetables I think I can get away with sneaking in. I made a HUGE pot this week because I'm working on filling the freezer with as much as I can before this sweet baby gets here. It's been pretty fun to plan—you know, if you find Type A organizational stuff fun—so I'm sure I'll bore you to tears with a whole post about it.
Can't stand the wait? Okay, here's a sneak peek.
Anything delicious going on? Any favorite freezer meals I should know about? I'm all ears!