Read more about why I love CSA and locally–grown fruits and veggies here.
This week's box:
1 bunch of mint
Blueberries
Strawberries
A bell pepper the size of my head
yellow wax beans
2 creole tomatoes
4 aptly named warty yellow squash
6 beets
1 cucumber
4 jalapenos
3 red potatoes
4 ears of sweet corn
They really knocked it out of the park this week. It's pretty much a box of our favorite things. And all that produce for $25? Yes, please!
A la carte items: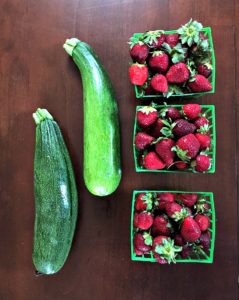 I also purchased 2 zucchini—each over a foot long, mind you—and 3 pints of $1 strawberries. They were marked down because they were very, very ripe, but I was heading to my parents' house and knew they'd gladly eat 2 pints (my dad actually made smoothies with 1 pint while I was still there). And I ate the other 2 because fruit, people! It's healthy, right?
You better believe I didn't pass up this spinach croissant, either.
My grand total was just under $36. I am still in disbelief over how much food we got for that amount. I could barely carry it out to my car.
It also initiated texts of this nature to my husband: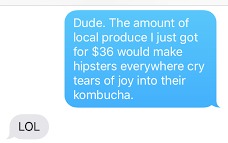 I like to think I bring a lot of entertainment value to our marriage.
Meal plan:
Monday: Roast chicken + red potatoes (you just add them to the same roasting pan so they soak up all the chicken juices and are delicious), brown rice, squash + zucchini
Tuesday: leftovers + blanched yellow wax beans (only enough beans for about 2 servings)
Wednesday: Grilled hamburgers, grilled sweet corn
Thursday: leftovers
Friday: wine and cheese
I've been adding sprigs of fresh mint to my water—so refreshing! And the blueberries are disappearing at the same alarming rate as the strawberries. I've been eating 2 small lunches a day rather than 1 normal–sized one, usually consisting of a power bowl and then a creole tomato + cucumber + feta + balsamic salad mid–afternoon. My parents sent me home with 4 creole tomatoes from their garden, so I'm pretty much eating one a day. Glorious.
The only items I don't have a plan for are the jalapenos. Maybe as an interesting burger topping . . . Any ideas?
Hope you're eating something summer–y and wonderful this week!