Read more about why I love CSA and locally–grown fruits and veggies here.
This week's box was full of ingredients I use all the time, including green onions and a head of lettuce. It's the little things, right?
It also included lots of summer–y ingredients with just one hint of fall: sweet potatoes. I know we're all rushing to get into fall because it's cool and lovely and we get to wear scarves and drink pumpkin spice lattes, but I'm trying really hard to enjoy this last week and a half of summer. This box is helping me do that. Oh, and the fact that it's still 90 degrees. ; )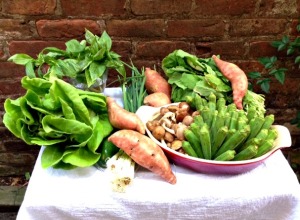 This week's box:
5 sweet potatoes
1 bag of okra
1 bag of shiitake mushrooms
1 cucumber
1 head of lettuce
1 bunch of green onions
1 bunch of turnip greens
1 bunch of basil
1 pound of fresh shrimp (not pictured because grey and slimy)
All that deliciousness for $25.
I didn't purchase any a la carte items this week, but I did get a bottle of homemade hot sauce from one of the vendors outside the market. He was giving out samples, and it was the best hot sauce I've ever had in my life—not exaggerating—so I bought a bottle. I chatted with the vendor for a while and learned that he's been making the sauce for a few years to give as gifts to his friends, family, and coworkers, and so many people told him he should start selling it that he decided to give it a try. He's sold over 400 bottles in three weeks! Don't you just love it when people do what they love, share it with others, and are surprised and humbled at their success? That was this guy. He was really an inspiration to me.
Here's what my meal plan looks like this week:
Monday: Barefoot Contessa's roasted shrimp and orzo
Tuesday: leftovers
Wednesday: rice with sauteed mushrooms and roasted okra (Misty, I'm using your recipe!)
Thursday: leftovers with some sweet potato chips on the side
Friday: wine & cheese
Saturday: TBA, as always
This plan takes care of everything but the turnip greens and lettuce (I added the basil to the shrimp and orzo, but don't tell Ina!). I picked up the box on Sunday and made turnip green chips right away for us to eat while we watched football. I usually have a turkey wrap for lunch every day, so I'll use the lettuce on those.
What end–of–summer, beginning–of–fall ingredients are you loving right now?