Do you love Thanksgiving food, too? There's something about all those fall flavors and colors that makes my mouth water, and I'm always looking for ways to enjoy those tastes throughout the season.
But I don't have time to roast a turkey every week, you know?
So I thought I'd gather some of my favorite easy fall recipes for you, gentle reader. They're all pretty quick to make and light enough to eat for lunch without needing that post–lunch nap. Save that for the Big Turkey Day.
Pumpkin Pasta with Sausage and Apples
by Melanie Makes
I made this for my Education for Ministry group, and it was a big hit! I used vegetarian sausage and gluten free pasta to meet the dietary needs of our group, and we ate it all up in no time. I don't have celiac or anything that restricts me to gluten free pasta, but I find that I'm less carb–sleepy after eating it than I am after eating regular pasta, so this makes it a great option to pack in my lunch for school.
My recipe is loosely based on the one in the link, but I really just kept the tortilla, Boursin cheese, and turkey the same. I use baby spinach, walnuts, and dried cranberries as the other ingredients.
And I usually eat a wrap with…
Roasted Butternut Squash Soup and Curry Condiments
by Barefoot Contessa
I simplify this quite a bit by sticking to the soup recipe but cutting the condiments down to just scallions. I'm having to sneak the apples into this soup as it is; if my husband sees them chopped as a topping, he'll never eat it! : )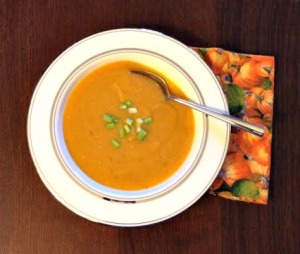 And while we're on the topic of the Barefoot Contessa, this Roasted Butternut Squash Salad with Warm Cider Vinaigrette is delicious. It's pretty easy to pack for lunch if you roast a bunch of squash at the beginning of the week, then pack the arugula and vinaigrette separately from a scoop of squash and cranberries so you can reheat those before adding them to the salad. Yum.
Any favorite takes on fall recipes? I just love making cozy food into easy food!