You know how every blogger out there seems to be crazy about Everlane tees? I was curious about whether or not they were as amazing as everyone claims, so I decided to hop on the bandwagon and see if these tees are everything they're cracked up to be.
The short answer? Kind of.
My experience with Project 333 has taught me that basic tees are an important part of my wardrobe. I'm no fashion blogger—see previous sentence for proof!—but I like sharing how simplifying my wardrobe has helped me define my style and streamline my closet / laundry situation. And that's been a good lesson for me: stick to simple tops like basic tees and button–downs.
I'm pretty picky about my tees. I had a grey v–neck from the Gap that I got on clearance for $1.99, and I wore that thing until it was falling apart. It held up for about 3 years, but then it got grubby–looking and I needed a replacement. I tried a J. Crew tissue tee, and evidently they mean that literally and use Kleenex as a fabric supplier because it didn't last through 2 washings! It was thin and cheap–looking from the first wear, and despite my careful laundering, it quickly lost its shape.
I like Boden's essential tees because they're thick and have a nice neckline. They also wash well and look high–quality. The only issue is that they ride up a bit and need to be adjusted often. They can be pricey, too.
With all this in mind, I decided to try Everlane.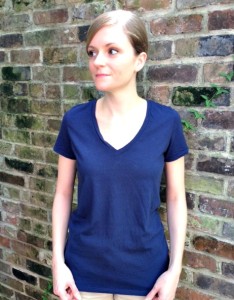 Everlane Pros:
Transparency You can read all about their factories and business practices on their website. Worried about sweatshops? No need. Such a relief in this day and age.
Price $15 for a high–quality tee that fits well and will last is worth it to me. They also offer free shipping and returns if you order within 24 hours of signing up, and there's always free shipping on 2+ items.
Color Selection I only need grey and navy, but I love the other options they have. Isn't aquamarine so pretty? It reminds me of the beach.
Referral Link I noticed that bloggers always included a referral link in their posts, but I assumed that's because they worked out an affiliated link situation with Everlane. Nope. Not the case. Anyone who signs up and orders from Everlane gets a referral link. If the person you refer purchases something, you get $25 credit. Let me know if you'd like to order through mine, and I'll send it to you.
Everlane Cons:
I always have trouble determining if a blogger really recommends something or just likes getting free stuff.
They do run out of items (but usually restock).
Everlane Fit:
I planned to order navy and grey, or "slate" in Everlane colors, but I could only order the navy one. Judging by the size chart, I'd wear a small, but I ordered a small and a medium so I could try both. I don't like when tees are too clingy. With free returns, it was a no–brainer.
The small was the right fit. The v–neck isn't too low, it doesn't stretch across my shoulders oddly, and the length of the tee and the sleeves are both just what I'd hoped. It's also not super–clingy. My only complaint is that it shifts around a bit–like too far back on my shoulders–so I do end up adjusting it sometimes.
My other complaint is that the navy one does show sweat. Dang.
I've only washed it twice and it still looks brand new, but I'll be sure to update you in a few months about how well it's holding up. I put it in a delicates bag and washed it in Woolite Dark with cold water, then laid it flat to dry. Why yes, I do have laundry OCD, thanks for asking!
Final Thoughts
I like but don't absolutely love the Everlane v-neck. It's the best basic tee I've found so far, but I think I'll keep searching.