Aren't farmers markets wonderful? I'm working on finding happiness and gratitude in the little things, and farmers markets are perfect for lifting my spirits and helping me appreciate local farmers and their produce.
My husband and I spent last Saturday morning at a farmers market and our local CSA. We had such a great time browsing the products and tasting the samples. I wanted to bring home one–or two–of everything!
Here's what came home with me: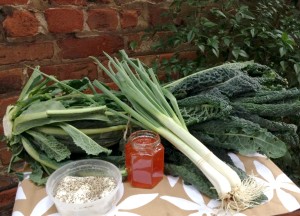 Green onions (one of my favorite ingredients!)
Fresh chèvre with black pepper
Locally made pepper jelly
Kale
And by "kale" I mean "more kale than I've ever seen in one place in my life." Can you believe this?
I'll be using this in one of my favorite winter soup recipes.
Any other lovers of farmers markets out there? What are your favorite products from your local farmers?
PS: I'm so excited that my Lara Casey PowerSheets shipped yesterday! I can't wait to start doing some real goal-setting for the new year.