Ever have weeknights when you wheel out your copy of Julia Child and cook a four–course meal for your delightful family?
Yeah. Me, neither. : )
Nothing against Julia. I've had Saturdays here and there when she's inspired me and I've gone all out with French cooking. In fact, I've made this more than once (minus the whole bacon rind thing—still no idea what that's all about). My husband and I ate so much you'd think we were offensive linemen.
But my weeknights tend to call for something simple.
Here it is, folks. Don't blink; you might miss the whole thing.
Ingredients:
your favorite allium (garlic, leeks, or any kind of onion)
your favorite summer squash (I usually go with yellow squash and zucchini)
your favorite pasta
your favorite olive oil
Isn't it a good sign when all of the ingredients start with "your favorite"?
Recipe:
Pour a glass of your favorite beverage. Put on the iTunes playlist of songs that make you smile. If you don't have one of those, make one. You'll thank me later.
Chop up the produce.
Get a pot of water boiling for the pasta.
While waiting for the water to boil, heat 2 tablespoons of olive oil in a pan over medium heat. Add whatever garlic / leek / onion you chose. Cook until it's translucent, 2 or 3 minutes.
Add the summer squash and a little more olive oil, if needed. Cook until it's the texture you want, 8–10 minutes, stirring occasionally.
Cook the pasta according to package directions.
Serve pasta with veggies on top and a little more olive oil and salt and pepper. You can even add some shredded cheese if you want.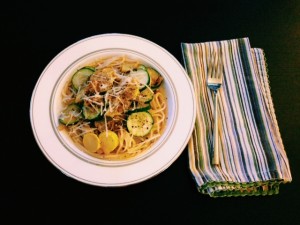 Easy, delicious, good for you. What more could you want?
What are your favorite lazy recipes? I pinky promise to pretend you slave away in the kitchen on a daily basis.