We finally had some cool weather around here, so I made some pumpkin spice latte—decaf because I'm a caffeine wimp!—and decorated for Halloween.
I love this little tablescape. I whipped up the runner with some sale fabric and an orange zigzag stitch.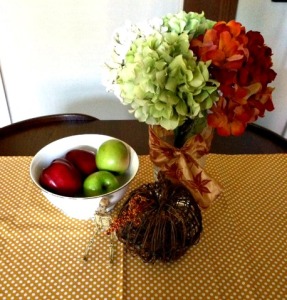 You'll see the leftover fabric on the mantel. The dish was a thrift store find, the crow and fake gourds are from the dollar store, and the sign is from Marshall's. Nothing but the finest in our holiday decor.
This cute witch is an old Marshall's find, too. If you go right after a holiday, everything is on mega–sale! She was only $3.50. : )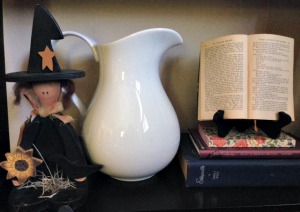 I changed the flowers in my 3–in–1 wreath and added a few dollar store finds.
Listening to "Thriller" and "Night on Bald Mountain" on repeat while I make this soup (the same one we ate all winter). Autumn, I love you so.
What are your favorite Halloween decorations?