It's a sultry 84 degrees while I'm typing this, but the calendar says October and I am a rule-follower if there ever was one.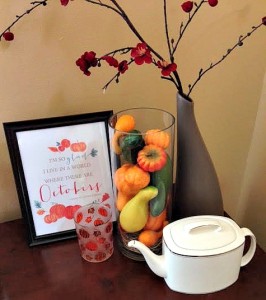 Pretty sure everyone out there already has this printable, but just in case—and to give credit—here's the link.

These two always crack me up.

HGTV tells me this is called a "tablescape." Photographers everywhere would tell me it's also called "backlighting" and "poor composition."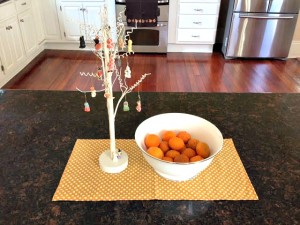 I've always been a big fan of holiday decorations. I've had that little Halloween tree and those ornaments since elementary school. Oddly enough, I've had those clementines about that long, too.
I think I mentioned the upcoming nonsensical vacation, yes?
Nonsensical in that we're flying to California when we could feasibly drive to the bigger / nicer / better park in Florida and that we made a paper-link countdown for it when the only people going are adults, but we're over all that and are looking forward to the Matterhorn and hoping the rumors about pumpkin spice everything are true.
I made this soup (again, not because it's soup weather but because I am militant about celebrating seasons appropriately, which also explains why our nativity is Jesus-less until Christmas Day, people).
I'm thinking about putting together a post on how to have a fall wardrobe when you live in a place that doesn't really have fall, but it would probably involve my husband having to take lots of pictures of me in various (mostly boring) outfits, which tends to give us the giggles and makes our neighbors think we're nuts. All in good fun, I suppose.
How's your week been, friend? Tell me it's fall where you are.