Not a sponsored post in any way—just something I researched and tried that I wanted to share with you.
Have you heard of the Honest Company? In my years of researching and reading about natural products, this company has come up several times, but I just recently gave it a try.
Six years ago, when I first started trying to weed out the nothing–but–chemicals products we were using in our home, I made nearly everything from scratch. Laundry detergent, dishwashing detergent, all–purpose cleaner, sink cleaner, germ–killing spray; you name it, I made it. There were some one–step options, like pouring club soda into a spray bottle to use for windows and mirrors, but most of the new "products" I was using were what I was able to make with various amounts of vinegar and essential oils.
As time has passed, there are still a few products I make myself, but I find that not everything works as well as the stuff made in a lab.
Ugh. Isn't that the worst thing a self–proclaimed "natural living" enthusiast can write?
I know, I know. We're all supposed to keep smiling through our "no–poo" hair washing, non–toxic tooth powder brushing, tea tree oil deodorizing existence, lauding the health and simplicity of Borax and elbow grease in any situation.
But honestly? I'm a fan of lathering, Crest, and Lady Speed Stick.
There you go. I said it. Please click away to a true crunchy living blog immediately!
I came up with a list of homemade products that DO work well:
germ-killing spray
laundry booster
sink cleaner
vinegar followed by hydrogen peroxide for bathroom germ-killing
And I thought of some store–bought but natural products that also work well:
(no affiliate links, just making it easy to find what I'm talking about)
Finally, I made a list of products that made me turn back to the cleaning aisle:
toilet bowl cleaner
window cleaner
dishwasher rinse aid
laundry stain remover
I've also struggled with finding good natural products like hand soap and bug repellent, and while most people in the teaching profession practically bathe in hand sanitizer, I'm kind of scared of all those ingredients I can't pronounce.
Enter the Honest Company.
I started reading all I could about their research methods, ingredients, and—mostly—the effectiveness of their products. I also did a good bit of pricing because I don't want to break the bank trying to clean my toilet.
I decided to try the Essentials Bundle. In fact, I set up a profile and started a bundle in my cart, then I left it for a few days to think about it (and by "think about it" I mean "search for more coupon codes").
Perhaps it was because the products sat in my cart—I honestly have no idea, no pun intended—but I got an email from the Honest Company with an offer I couldn't refuse.
See, I felt like $35.95 for 5 products was pretty good, roughly $7 per product. But the shipping.
The shipping.
Amazon Prime has me so spoiled when I comes to shipping. I just think I'm entitled to order whatever I want on the internet and have it arrive on my doorstep for free.
Please no one remind me that I pay a membership fee, so "free" is not exactly accurate.
But the Honest Company sent me an email for 40% off, limit 2 bundles. And free shipping. Needless to say, I was sold.
Here are the products I chose for my 2 bundles:
hand sanitizer
hand soap
bug spray
dish soap
toilet cleaner
bathroom cleaner
shampoo + body wash
glass and window cleaner
rinse aid
stain remover
With the coupon Honest emailed me, those 10 items were only $43.14. But after trying the products, I can see how the full price—even shipping—is still a great deal.
I've been using the items for about 6 weeks, and I'm happy to report I love all of them. All.
I know, right?
For reviewing purposes, I grouped like items and provided a comparison to another product.
Shampoo + body wash The scent is amazing without being overpowering, and your skin feels soft but not greasy.
As compared to Aveeno body wash: works just as well
Bug spray The bug spray does require a good shake and is a bit thick when it goes on, but it works REALLY well (trust me—mosquitos usually love me) and doesn't smell so bad, either (especially for a bug spray).
As compared to Off: works just as well
Dish soap Even if this stuff didn't work as well as it does, I'd probably keep it around for the fragrance alone. It's a nice, light lemon verbena that makes dish–washing enjoyable without leaving a scent—or taste! yuck!—on your dishes.
As compared to Seventh Generation dish soap: works just as well
Rinse aid We really need this stuff because of having hard water. I tell myself to get over it, but I love a nice, shiny glass, straight out of the dishwasher; don't you?
As compared to Seventh Generation rinse aid: works a little bit better
Stain remover It could just be that the last laundry stain remover I bought was the absolute cheapest one at the store, but I was desperate for a stain remover that actually . . . removed stains. See? I'm not that demanding.
As compared to Clorox Oxy Magic Spray: works so, so much better
Glass and window cleaner Okay, this product could get its own post. The previous owners of our house had a big dog, and there were layers of dog nose marks on the front window, right by the door. While it was sweet to think about a dog so excited when his humans arrived, it was also a nightmare to try to clean. I actually thought the glass was scratched; that's how impossible it was to clean off. This stuff just cut right through it.
As compared to Windex, club soda, vinegar, etc.: works a million times better than anything else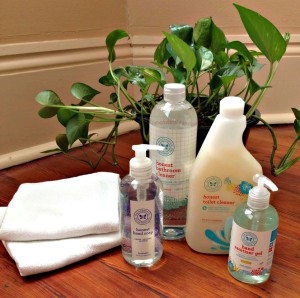 Hand soap Light lavender scent and a little goes a long way. Need I say more?
As compared to Softsoap: works just as well
Bathroom cleaner I used this to clean the tub in the hall bath while my husband and I were repainting it. He was hanging the mirror and asked, "What is that that smells so good? A candle or something?" (yes. because I'd burn a candle in such a small space while we were elbowing around with paint rollers.)
As compared to Scrubbing Bubbles: works almost as well (the soap scum required a bit more elbow grease)
Toilet cleaner This was one of the products that kept sending me back to chemicals. I'd given up on finding a good green option, but then I tried this stuff. It is thick—like, so thick you have to put it directly on the spots that need cleaning. It doesn't really run enough to coat the bowl, but I like that it sticks to the tough spots and gets them really clean.
As compared to Lysol toilet cleaner: works a little bit better
Hand sanitizer gel Like I said, I normally avoid hand sanitizer because it dries out my skin and always makes me worry that I'm killing too many germs and messing with my immune system. This is a happy alternative.
As compared to Bath & Body Works hand sanitizer: works just as well without the overwhelming fragrance
So will I order from Honest again? Absolutely. I'll definitely switch up products to get the best deal (you can see the price of each product and figure out how to get the most bang for your buck when you bundle), and I don't think I'll do a subscription because I can't go through the products quickly enough, but I will definitely order again.
And their customer service? Also wonderful! I called after the bundles arrived to cancel the subscription (any time you buy a bundle, you're automatically enrolled). I'd read mixed reviews about the customer service reps giving people a hard time when they called to cancel, but I didn't have any problems.
Also, the glass cleaner's seal wasn't completely attached, so a little tiny bit of it had leaked in the box (like, a few drops). I mentioned it to the customer service rep, who immediately offered to send a replacement in the mail at no cost to me. I graciously declined because it really wasn't necessary, but I appreciated how it was handled.
Let me know if you try the Honest Company! And I'd love to hear about all of your favorite green products, too. : )