Last weekend, I was thrilled to attend the Influence Conference. I've been trying to put together my thoughts to share, but it's been hard because there's just so much to think about.
As I mentioned in my intro, this was a leap of faith for me. I'm a bit introverted and have a hard time meeting new people and making small talk, and I'm brand new to blogging, so I didn't know if this was something I'd enjoy. But I took the plunge, not knowing how it would go.
And you know what? I'm so glad I did.
Thursday
The black & white party with Mocha Club was great! I had never heard of this amazing organization before, and I was floored by the work they're doing.
My favorite thing about Mocha Club? "All of our work is through trained indigenous leaders: Africans developing Africa."
Some organizations leave me with mixed feelings: loving the work they do but disillusioned by the "we're here to grace you with our presence and fix everything for you" mentality. I love that Mocha Club is happy to help in the background but allows the people who are from these communities lead the way. I just think that's more respectful and empowering.
By the end of the conference, I'd joined these efforts—not just for the free shirt, promise!—because I realized what great work they're doing.
But isn't the free shirt cute?
Friday
Hayley Morgan's keynote, The Medium Doesn't Matter, really hit home for me. Like Hayley, I find myself striving too much and trying too hard, disregarding the fact that God already loves me. She said that we have to internalize the Good News in order to live it, and that just made so much sense.
Whitney English's session was honest and heartfelt. She talked about comparison, which has been on my mind lately, and she defined three types of comparison: material / financial, circumstantial, and relational. She also said, "If we chase others' dreams, we might miss God's dreams for us." Preach.
Jen Lula's session was exactly what I needed in terms of being a new blogger. She talked openly about her experiences and what she's learned, she gave great advice, and she provided concrete goals and steps to take with your blog. Plus, she's adorable.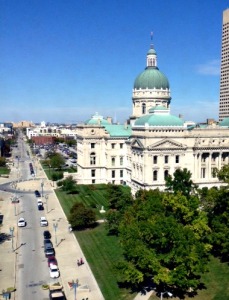 Lara Casey's Session
I mentioned on Twitter that I didn't have words for this session, and I still don't. If you've ever wondered if Lara Casey is caught up in her success, her beautiful home office, and all of her gold, scrolly fonts, the answer is no. If you've ever wondered if Lara Casey is a real–life person with a huge heart who can bring out the best in you, the answer is yes.
I hate to admit what I'm about to admit, but I'll do it anyway. I'm usually skeptical about internet bandwagons, and I've always wondered if the Lara Casey fans were just that—fangirls on a bandwagon. I'm here to tell you they aren't. She's just that inspirational. The best thing about Lara? She doesn't make anything about her; she makes everything about Him.
Saturday
Jessi Connolly's keynote, It's Time to Build, was as funny as it was serious. She shared her heart and helped inspire us to search our own for what truly motivates us. Something she said really stuck with me: "Sometimes we're for God without being with Him." So very, very true.
Sammy Rhodes' session was the one I was looking forward to the most. I follow him on Twitter, and he is hilarious. I read about his experience with Twitter and comedy, and I couldn't wait to hear about it from him. Let me tell you, he did not disappoint. Yes, he was funny, but he was also brutally honest and directed us to an important question: Whose approval are we seeking, man's or God's?
Ellen Parker is one of my favorite Influence Network class teachers, and I had the pleasure of meeting her and her sweet friend Amy Ruth at the Mocha Club party. These women truly walk in love every day. I think I could listen to Ellen share stories for hours, and the way she brings out the nugget of truth in each one is heart–warming. I took pages and pages of notes during her session, but this has been on my mind the most: "Fear and shame motivate rarely. Love motivates forever."
Christie, Frances, Meg, Kristen, Kristel, and Holly (I just love this group!)
The people
Oh, you guys. The people I met. The people. I'm overwhelmed by the positivity and encouragement from these women.
I knew a few people via blogging and social media before the conference, but we'd never met in person. Getting to hug them and have coffee with them and actually talk to them—in more than 140 characters at a time!—was just wonderful.
And the people I met there? They were so warm and kind. I've found so many new blogs that make me say, "Yes! Me, too!" and remind me that we are not alone in this big world. He is with us, and He's sent people who will walk in His ways with us, encouraging us when it's tough and celebrating with us when it's fabulous.
I could not wait to meet Abby!
You may recognize Ashley from the ever–inspiring Firework People chats!
Katie, whose book I talk about at least once a week! So, so excited to meet her!
I'd love to read your Influence Conference recap! Please leave a link in the comments. And if you're interested in attending, please don't hesitate to ask any questions you might have. : )