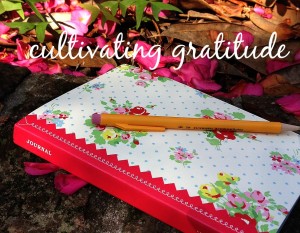 I started writing in a gratitude journal about a year ago. One of my 2013 resolutions was to journal more often, and I thought a gratitude journal would be an easy, low-pressure way for me to do this. It helped give me focus and purpose, and I could keep the entries short if I didn't have much time.
I chose a simple journal by one of my favorite designers, Cath Kidston. Before I started my daily entries, I made a list of what I was thankful for every day, including my husband, our dog, our families, and our faith. I put that list on the first page of the journal so that I would see it every time I opened the cover. I wanted to notice the little things, but I didn't want to lose sight of the biggest blessings in my life.
On the pages that followed, I put the date and a short list of what I was grateful for that day. Sometimes I included explanations; sometimes I didn't. Sometimes the entries were serious; sometimes they were silly. I missed a day or two every now and then, but I was consistent enough that I ended up with a year's worth of gratitude to remember.
I also started adding Bible verses about gratitude. One of my favorites is 1 Thessalonians 5:18, "In every thing give thanks: for this is the will of God in Christ Jesus concerning you."
Gratitude journaling has been a wonderful experience for me. It continues to serve my resolutions for 2014 because it helps me cultivate a sense of gratitude for the little things, so I've continued writing in it this year. I hope this will be a part of my journaling for years to come.
Do you keep a gratitude journal? Or another specific journal, separate from others? How has it helped you?