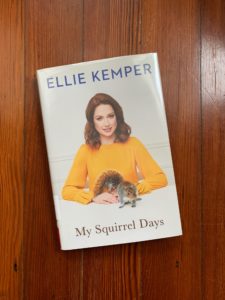 Loved
My Squirrel Days by Ellie Kemper
I love The Office and Unbreakable Kimmy Schmidt, so it's no surprise that I love Ellie Kemper, too. This was a quick, light-hearted memoir that made me laugh out loud at least once every few pages. I found the first half of the book funnier than the second, but that could be because I love hilarious childhood stories. Regardless, this was fun and entertaining throughout.
Life of the Beloved by Henri Nouwen
This was a laid-back book club pick by my same friend you all have read about before. Her timing couldn't have been any better because I was hoping to read some more Nouwen since reading some of his work in EfM. This particular selection is perfect for times when you feel distant from God or unsure of yourself, or if you're very new to a life of faith or even just curious about Christianity in general. This was one of the best books I've read in a long time, honestly.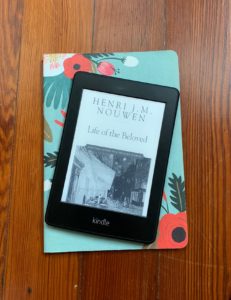 Liked
A Quiet Life in the Country by T.E. Kinsey
I've been looking for a new murder mystery series since I'm nearing the end of the Rev. Clare Fergusson series (and you'd better believe I'm s t r e t c h i n g them out for as long as possible). The Kindle versions of the first few Lady Hardcastle mysteries were on sale, so I stocked up, hoping I'd be hooked. Given the setting and time period–England at the start of the 20th century–I thought I'd be all over these, but I'm not completely sold yet. Even so, this was good, if not great, and I'm willing to give the next one a shot.
Left unfinished
Kind is the New Classy by Candace Cameron Bure
I love the premise of this book, but I just couldn't get into it. It felt a little like a general self-help book with a side of "and kindness!" thrown in, almost as an afterthought. I kept starting other books in the midst of reading this one, which isn't a great sign for me, but I also keep renewing my library copy, so who knows? I'm going to give it another shot before it's really due.
Because I love children's lit
Disney Parks books
We leave for Disney World in just a few weeks, and we've been reading these to the toddler nonstop. The illustrations are outstanding! The text is pretty much just the song from each ride, with the top cheesy lines from Jungle Cruise making up its text, so now everyone in the house knows all the words to all of the songs. Aren't you jealous of the people who will be near us in line?
Reading now 
Vanity Fair by William Makepeace Thackeray
Okay, technically I've been reading this novel for months now. Months. And it's not shocking to me because it is a big, ole' tome of classic British literature, and it demands a lot of my brainpower, which isn't easy given my 8:30-9:15 pm reading time. It slowed down my insanely lofty Goodreads Reading Challenge goals so much that I had to put it on the back burner for a bit, but I'm thinking about shaping my reading goals for next year based on this novel. More on that later, so get comfy on the edge of your seat.
Up next
Becoming by Michelle Obama
When I got on the library waiting list for this book the day the waiting list was available, I was very, very smug because I was sure that I'd be the first one since it isn't even being released until November 13th. Dear reader, I am not the first one on the list. I'm not even in the top ten. I am, in fact, 35th. Methinks a bit o' birthday money might be heading toward the bookstore.
Okay, what are you reading and loving? Anything that would be a good gift? I'm starting to work on those lists, too.