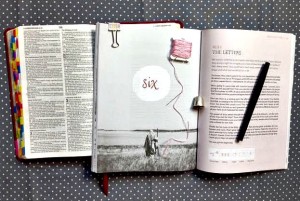 I can't believe the summer session of Seamless is already over! I'll probably post about the study one more time, sort of a last thoughts kind of post, but here are my responses to week six.
This week, we focused on the letters. Angie Smith does a beautiful job moving from Jesus' life and death (and eternal life!) to how His presence changed the world in the years that followed. It isn't all sunshine and roses, of course; Paul was one tough character before Jesus changed his heart. The journey through the epistles helps readers to know him and to consider how Jesus is working in their own hearts.
1. What did you learn about Paul that you didn't know before or that surprised you?
I think the exercise of really thinking about the person behind the letters while reading the letters made me learn in a way I hadn't before. I'd heard of Paul and knew his general story, but I don't know that I'd ever made that writer-to-writing connection quite the way I did this time around (surprising considering I encourage my literature students to do this all the time). It made me read the letters in a new light.
2. What does reading 2 Timothy 4:6-7 inspire in you?
Well, it always makes me think of funerals, of course. It isn't a verse I read to myself very often or think about during journaling or devotionals. I find it a little depressing to read what I consider a "funeral verse" when I'm looking for encouragement or a bright truth to start the day. But why is this? Why am I only looking back on someone else's life or only looking back on my own life when I am in a state of mourning? As Christians, we should look forward to the next world, but we should also consider the effect we have on this world, and we certainly won't regret starting now. I want to start approaching verses like this one with a different attitude, a different lens. I need to ask myself if the way I'm living right now is leading in this direction.
3. What stood out to you the most in this study or is the biggest lesson you've learned?
Let me go ahead and give the most obvious answer ever: that the bible is . . . wait for it . . . seamless.
In all seriousness, when I think back to when I started this study, I'm amazed at how much my overall comprehension has improved. Instead of thinking of Noah as totally separate from Joseph or thinking of Rahab as living too many centuries before to have anything to do with Jesus, I see how everything weaves together. The closest I've ever come to having this experience was with The Jesus Storybook Bible, so I completely understood what Angie Smith was saying when she said that her earliest understanding—real understanding—of the bible came to her through children's bibles even though she was reading them as an adult. This study has helped me to see those connections through the NRSV and KJV, making me appreciate the seamlessness.
I'm glad the study book is so thorough. It's certainly one I plan to keep and return to when I need a quick review or want to revisit what I was thinking and praying about this summer (and it certainly doesn't hurt that it's so pretty).
I can't believe how quickly this study flew by! But doesn't summer have that annoying habit anyway? ; )