. . . and all the other posts I wish I had time and energy to write.
Gentle reader, I have so many words floating around in my head, and I desperately want to sit down and compose them in some semblance of order. But oh, the excuses. Holidays, papers to grade, family event after family event. I draft in Evernote, and I've got about a million (by that I mean exactly 9) posts started that I just haven't gotten off the ground. I want to tell you about books I've read lately, that I joined Thrive Market and love it, why spring is my favorite season, how I cannot get the hang of the new Influence Network system (which is awesome and provides even more great content for members, but old dog / new tricks . . . you know the drill).
Yet I just haven't had the brain cells to complete anything. So here we are, with pictures of my garden.
Remember my little peat pods? Well, I definitely don't recommend using them because I did have problems with fungus, but the little guys who made it are doing well. So well, in fact, that I got really confident and ordered one of these. We call it our Victory Garden, sometimes I refer to myself as an urban farmer . . . yes, it's safe to say it's provided all kinds of humor around our household. And perhaps someday it will provide vegetables because LOOK:
We've got lettuce, summer squash, cucumbers, beets, tomatoes, and garden beans planted in here and starting to sprout! I actually didn't even bother starting these inside because it was already pretty warm out, so the seeds I started in pods—well, the ones that made it—are in various pots around the porch / yard. The Victory Garden is doing so well.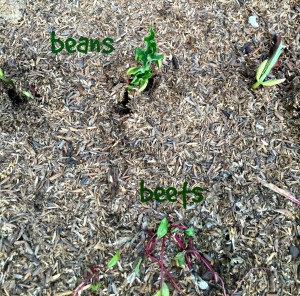 I mean, look at these cucumber shoots! Shoots? Is that even the right word? I don't know, but what I lack in expertise, I make up for in enthusiasm.
Actual, honest–to–goodness cucumbers, just growing from seeds. Unbelievable. I think back to the Boston fern I had a few years ago—may it rest in peace—and I can't believe how far I've come.
Until next time, gentle reader. May you have more energy and coherent thoughts than I do at the moment. I hope to get back in the rhythm of blogging because I enjoy it so much, but I also want to write stuff worth sharing. In the meantime, any thoughts or favorite resources for when you're stuck? I'm all ears.
And by that I do not mean I'm planting corn next. Wink.