My husband and I are planning our next big trip. We try to visit at least one other country every summer, and we save during the school year to be able to do so. It's something we look forward to all year long.
I thought I'd share some of our favorite travel–planning resources today.
1. Lonely Planet
These are our favorite travel guides because they're comprehensive without being overwhelming (although they tend to be about 1,000 pages long, so go ahead and define "overwhelming" for yourself before you listen to a word that comes out of my mouth). I like how they're set up: different tabs for different regions, easy–to–use icons for different attractions, and even a removable map.
They're well–researched and general enough to be useful to any traveler, no matter your interests, but specific enough that you know what to expect. I also like the bits of humor here and there.
2. Hipmunk
There are tons of websites for finding low air travel fares, but this one is our favorite. I love that you can sort results by the typical options, such as price, duration, etc., but you can also sort them by agony. ; )
3. Flight Fox
As much as we like using Hipmunk for easy flights, say to and from London, we get a little overwhelmed when we're trying to go to a bunch of places in one trip. We're looking at going to Asia this summer, and we're open to lots of different countries. The only one we feel like we have to visit is Japan.
In some ways, this is good. We're flexible and open to whatever's easy to get to once we're over there. But in other ways, this makes us crazy! How do you search for flights to, oh, anywhere in Asia?
Answer: You don't. You send your travel ideas, dates, and budget to an expert via Flight Fox. That expert does the legwork of researching different options and sends you sample itineraries. You message back and forth with the expert until you find an itinerary that works for you, and you pay the expert a small fee for his / her effort ($59 for a basic international trip + $10 if you add additional destinations).
At first, I thought this sounded like it could be a waste of money. Weren't we just paying someone to do what we could theoretically do ourselves? But like I said, we get overwhelmed by the seemingly unlimited possibilities and worry that we won't find a good deal or will overlook something important. It ends up being worth it for those complicated trips.
4. Air BNB
Do I even need to sing my praises for this site? It is wonderful. Not only is the concept great, but everything is user–friendly, especially the smart phone app.
We once visited a delightful small town in England for a few weeks, and we stayed in a quilting shed we found through Air BNB. A quilting shed. Are there words to express how quaint and idyllic it was? I didn't think so.
Maybe pictures will do it justice.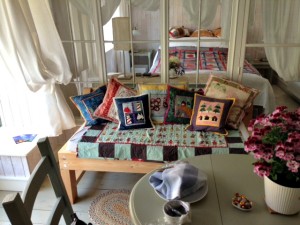 I know, right?
What about you? What are your favorite resources for planning vacations?
I just reread this, and it kind of sounds like a sponsored post, but I promise it isn't. But if the people over at Hipmunk want to send me $0.30 toward my next flight, then by all means . . . Wink.