Fun Fact: I am obsessed with organization. Seriously. Ask my husband, my siblings, and anyone I've ever worked with in my life.
Another Fun Fact: I have not felt very organized lately. And that makes no sense because I work part–time now and have much more time for cleaning out and putting things where they belong.
I decided it was time to get organized for the year.
Here are a few organizational tools I'm trying:
My planner
Despite trying the whole Google / iPhone calendar a few times over the years, I always end up getting an old–fashioned paper one. I have a separate system for teaching / lesson planning, so I really just need something small to keep track of school holidays, travel plans, appointments, and such. I went with this planner from Dayspring.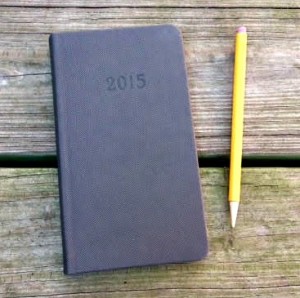 I also got these cute stickers to label events.
This planner is big enough to write comfortably in but small enough to carry in my purse. And the scripture verses are a nice touch.
My binder
I've been working on creating a reasonable housekeeping schedule—more on that later, promise—and a place to keep track of things like coupons, craft ideas, and blog plans. I put together a simple binder with the labels I needed: home, finance, self, goals, and create.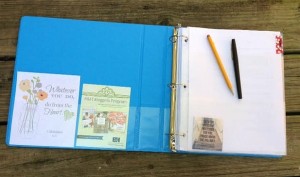 That cute Colossians printable is available here. 
Each section has room for pages and pockets for smaller items.

And that cute grocery printable is available here. 
Have you read Make It Happen by Lara Casey yet? I just finished it, and I highly recommend. Lara included links to some adorable printables, and I've been using those for goal–setting. It's nice to have short–term and long–term goals where I can see them often.
My daybook
This post from Breezy inspired me to start keeping a daybook. While mine isn't nearly as beautiful as hers—she is an artist and illustrator, after all!—her ideas about keeping track of to do lists and being able to look back on the year and feel productive really spoke to me.
I started keeping my lists and reminders in my daybook about six months ago, and it's proven quite helpful. I also keep packing lists in it, starting them a few weeks ahead of time and adding items as I think of them.
Any favorite organizational tips to share? I'm all ears. Here's to staying organized and feeling productive in 2015!