Have you chosen One Little Word for 2018? This is my fifth year choosing a word, and it's become my favorite new year's practice.
I knew by about mid-November that my word for 2018 would be . . .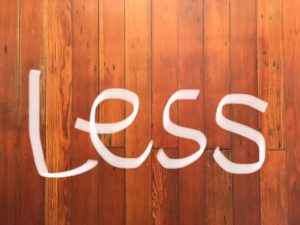 It's not a surprising choice, I guess, given how much I talk about cleaning things out, donating stuff, purchasing less stuff, etc., but what I love about the one little word practice is that it helps you incorporate your word into various aspects of life.
While I will certainly keep thinking about less in terms of physical stuff, I hope to see it in other ways, too.
Less on the to do list This is something I started working on this past year, the year of low-maintenance, and while I've gotten better about not trying to do all the things, there's always room for growth. I'm a little worried that my goals will start feeling like items to check off of a list, so we'll see how it goes.
Less on the calendar You'd think that because I only work one day a week and get to spend lots of weekday time with my toddler that this wouldn't be a problem for us, but I've managed to make it one anyway. I think sometimes I worry that he isn't around other kids enough and so I try to overcompensate by finding every storytime and playtime in town. Some days, this is great; we get out of the house, he gets time with other kids, and it breaks up what could be a long day of cabin fever. But sometimes I feel obligated to go to whatever's available, even if we could both use a day at home.
Some calendar items are out of our control, of course, and I don't see myself saying no to family events and birthday parties, but I'm hoping that by keeping our calendar manageable when I can we can enjoy those events more.
Less fuss related to holidays / celebrations This is something I've been wanting to do for a long time. This past summer, when we started planning the big first birthday party we hosted in September, I decided to have as much fun planning it as I did during the actual event, which for me meant making crafting a part of the preparations—I love a good craft—and setting up everything the day before the party (and limiting what "everything" meant). All I had left to do the morning of was take the food out of the fridge and put it on the counter.
I did that thing where you take a picture of the baby every week. Those pictures + illustrations from a copy of Peter Rabbit backed with cardstock made up the decorations. No frills, no fuss. It left me time to enjoy putting together the favors and making the highchair banner.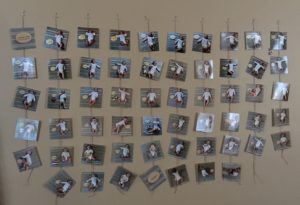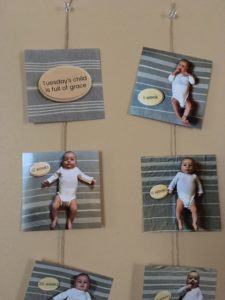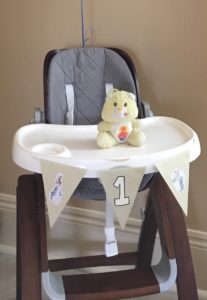 Most of the kids were 2-7, so they were big enough to decorate flower pots. In an effort to avoid sending people home with a bag of candy and small toys, the favors were potting soil and garden beans. Yes, I literally sent people home with a bag of dirt.
In December, when we took out the Christmas decorations, I'd forgotten how much I had purged the year before. Truth be told, I always get a bit panicked when it comes to Christmas decorations because we just had way too many, and I change out too many of our everyday items for holiday items. It's lots of work and takes a lot of time, and I don't know that I enjoy it enough to be worth it.
Because we had less stuff to begin with, I actually enjoyed putting out the decorations and was able to do everything in one fell swoop without feeling all bah humbug afterward.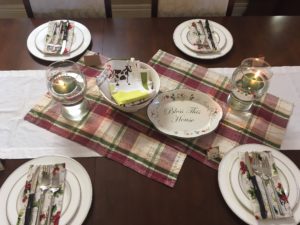 Less Amazon I am dying inside even saying that. Seriously.
While I know I can't beat the convenience of Amazon—the app! the two day shipping! the stuff arriving at my door instead of requiring an errand!—I rely on it too much for things like books and gifts. I'd much rather spend that money locally at an independent bookstore or an arts market. Around Thanksgiving, I got all up in arms about how much people spend on Christmas gifts and where that money is going and child labor and how much petroleum it took to get here and who knows what else—I was really on a rampage—and ended up buying most of my inlaws' gifts from an arts market. I felt great about it and hope to continue (perhaps minus the soapbox).
Less screen time Needs no explanation, right? And in the spirit of less screen time, I'm off to hang out with the dog and knit until naptime is over.
Please share your one little word in the comments!
PS: The blog turns 4 today. Is that crazy or what?