Tomorrow is the big day. August 6th. Teachers' first day back.
And I'll be there, of course. I'm sure I'll get there early, pencils sharpened, new notebook in hand, professional development schedule printed and highlighted and tucked in a fresh folder. I'll be happy to see my colleagues again and share stories of our summer vacations. I'll be excited to see students I taught last year when they stop by to say hello.
In short, I'll have a good attitude, like I always do. But what's different this year is that my good attitude is a choice I'm making, not my natural response to the beginning of school. Last year was so difficult that it's left me feeling dull and discouraged, and the past few years at my current school have slowly worn me down as a teacher and as a person.
And that kills me. It breaks my heart.
You see, teaching used to be my absolute favorite thing in the world. I woke up every morning excited to get to school and see my kids. I happily spent hours upon hours planning and grading and thinking of new, creative ways to help my kids develop better writing skills, a love of reading, and a sense of self and purpose. It defined me. I truly felt called to teach.
And I looked down on *those* teachers. You know the ones I'm talking about. The ones with the bad attitudes, the ones who counted down to the next holiday, the ones who walked around campus with a constant sneer and a sarcastic response to everything. The ones who were jaded. I can remember thinking to myself, "That person really needs to get out of education. Teachers should love teaching, and the moment they don't, they should leave."
But now I find myself in this strange space between loving it and hating it, feeling inspired and feeling jaded, desperately wanting to be there and desperately wanting to be anywhere else.
Rather than let myself become overwhelmed by these feelings, I've decided just to ride them out. I'm giving myself grace when I experience discouragement, and I'm choosing to have a good attitude so that I'm not that jaded, cynical teacher because my students deserve more than that (plus, it's an awful way to experience life).
Here's how I'm choosing positivity:
1. Working part time
Well, this is a huge one. My school has both full– and part–time positions, and I've been there full–time for three years. Full–time there means about 60–70 hours a week, which certainly contributed to my feeling bogged down with everything work–related. In February, I talked to my principal about switching to part–time this year, and I'm very happy that it worked out.
We have an A / B block schedule. I'll only have classes on A days, so I'll work every other weekday (MWF one week, T Th the next). No doubt I'll still have the grading, planning, and other work teachers take home with them, but at least I'll be able to get things done during the regular work day and have evenings, weekends, and holidays free (and I'll only have 45 twelve–page research papers to grade each quarter instead of close to 100).
Obviously, working half as much means making half as much, but my husband the finance guy strongly, strongly urged me to make this change regardless of pay. In his words, "There's no price for your personal happiness. We aren't money people. We're happy people."
Amen.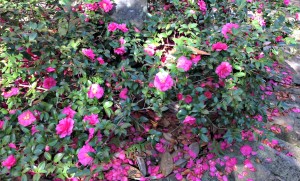 2. Influence Conference countdown
If there's anything I'm looking forward to in the next few weeks, it's the Influence Conference. I joined the Influence Network when I started blogging because it seemed like the perfect place to find the kind of inspiration, encouragement, and community I was seeking through blogging. And it is that place. I love it! I can't wait until the conference!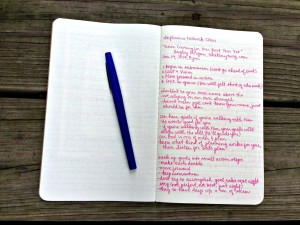 3. Visual reminders of what really matters
Remember my first embroidery project? It's framed and ready for my desk. I need this little reminder throughout the day, especially when I'm trying to control every little detail.
Have you heard of French Press Mornings? It is such a beautiful, inspirational place, and every Wednesday is Encouraging Wednesday, when Jenny shares one of her gorgeous scripture prints as a free download. I've been downloading these for a while and using them as desktop backgrounds, but I finally printed a few, backed them on cardstock, and started tucking them around my house as little reminders.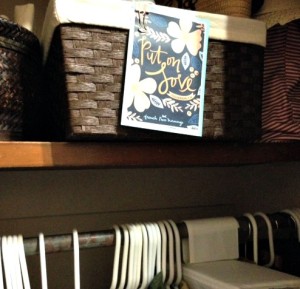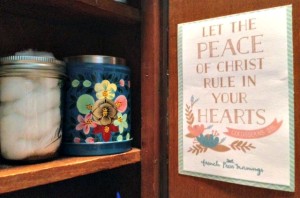 I made a banner of them over my washer and dryer because that's where I fold clothes, and it just seemed like a good idea to spend those minutes thinking about the Word. I'm planning to change out the cards every now and then—I even have Thanksgiving and Christmas sets ready for the holidays!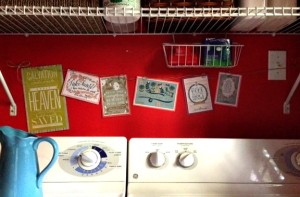 You eagle–eyed readers may notice a page from Life: Beautiful there as well.
4. She Reads Truth lunch dates
Last year, I started bringing my Bible in my schoolbag to read during lunch. It was tough because I already have so many things to lug back and forth, but it was worth it for obvious reasons. But now that the She Reads Truth app is here, I'm looking forward to using that during lunch instead.
It will be something to look forward to all morning and just the inspiration I need to get through the afternoon with a smile on my face.
5. Making August 6th a special day
I preordered Let's All Be Brave by Annie Downs, but I made myself wait to start reading it until tonight (the night before teachers' first day). It gave me something to look forward to about this time, and I have a strong suspicion this is exactly the encouragement I need right now.
I also ordered a prayer journal from Val Marie Paper a few months ago, but again, I made myself wait until August to start using it. This whole waiting thing probably sounds strange, but making myself say, "Oh, school is starting! I get to read Let's All Be Brave and use my prayer journal! Yay!" has really helped me focus on positive things and change my mindset. Yep. These are the psychological games I play. But they work, so why not?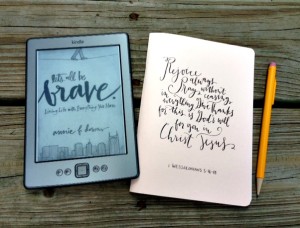 6. 100 Happy Days
Have you heard of 100 Happy Days? I enjoy seeing people's Instagram posts of the little bits of happiness they encounter during the day, and I decided it would be a good exercise for me. Again, I held off so that my start date would correspond with the start of school.
7. Making time for myself
I fall pretty easily into that put–everyone–else–first rut that so many of us fall into. While it's good to be loving and giving, it isn't good to ignore your own needs. This year, I'm making time for healthy cooking, yoga, and Pure Barre. My amazing and wonderful Influence Community Group leader, Sarah, has started carving out time for scripture in the mornings and using #hidingplaceam on Instagram, and I can't wait to join her! She also just launched Project on Purpose, and I cannot wait to see how this much–needed space grows and encourages and helps me focus on what matters.
8. Answering the call to ministry
I'll write more about this in a future post, but it's been on my heart to seek more ministry opportunities. Part of my discontent with my current teaching position is that it doesn't feel like doing the Lord's work, which is how I used to describe teaching (and I was only half–joking).
I've had several heart–to–hearts with my priest about this, and she has helped me seek ways to answer that call. It's given me a whole lot of hope for the next year (well, the next four years . . . wink).
Whew. That was a lot. Thanks for letting me share this tough stuff. Have a beautiful week.