A few years ago, my husband and I read Michael Pollan's book Food Rules and watched the documentary Food, Inc. I'd been eating pretty healthily for a while, but I was spending a fortune on organic everything, and I was having trouble reconciling purchasing something organic with the fact that it had been flown 4,000 miles to get to me (carbon footprint, anyone?).
My husband, on the other hand, had the refined palate of a four–year–old: chicken nuggets, pizza, and chocolate. He wanted to eat more healthily, but he didn't know where to start. He's a very picky eater and doesn't have the best track record with vegetables (read: he hates them). Luckily, he's the kind of person who appreciates doing some research and learning the facts, and Michael Pollan's easy–to–understand explanations of food and health helped him make some significant changes.
One of the best changes we made was discovering our local CSA market. Every week, the market has a box of fresh, local produce for $25, and there are tons of a la carte items available, too.
My favorite things about CSA boxes:
The produce is fresh (so much fresher than anything I was purchasing at the grocery store, even that really fancy one whose name rhymes with Mole Snoods).
The produce is local (the farthest it's traveled is about 100 miles).
I'm supporting local farmers (not huge conglomerates with questionable practices).
Everything is in season (no, I can't get apples in March or blueberries in December, but it's a good thing).
It encourages change and creativity (no falling into a recipe rut when there's something you've never heard of in your box—remind me to tell you about the time I got an entire stalk of sugar cane).
This was an easy change that's had a positive impact on our health and budget. I always thought healthy eating meant insane grocery spending, but after tracking it for a few years, I've learned that the CSA box is actually more affordable than the grocery store. It's also way more fun. : )
I thought I'd start sharing what's in my CSA box and how I'm using it during the week, so without further ado . . .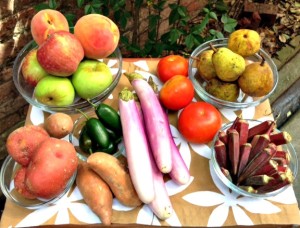 This week's box:
3 green apples
2 red apples
2 peaches
3 sweet potatoes
3 new potatoes
5 jalapeno peppers
3 tomatoes
4 eggplant (eggplants? that sounds weird)
1 bag of okra (which I didn't know could be red)
1 bag of cooking pears
Yep, all that for $25.
A la carte items:
1 pint of blueberries
1 bag of shiitake mushrooms
1 bunch of lemon basil
1 bag of jasmine brown rice
1 whole roaster chicken (not pictured because she was not feeling very photogenic this morning)
That was an additional $22, bringing my grand total to $47.
Here's what my meal plan looks like this week:
Monday: eggplant & okra parmesan
Tuesday: leftovers
Wednesday: roast chicken & new potatoes; sauteed shiitake mushrooms
Thursday: leftover chicken & mushrooms + baked sweet potatoes
Friday: wine & cheese
Saturday: TBA (maybe leftovers for lunch, dinner out . . . we like to leave that element of surprise)
This plan takes care of the eggplant, okra, tomatoes, lemon basil, chicken, new potatoes, sweet potatoes, shiitake mushrooms, and 2–3 apples (with wine & cheese).
We'll eat the peaches, blueberries, and other apples with breakfast or as snacks. I have a perfectly ripe avocado from last week, so I'll be using a couple of the jalapenos (and maybe some chopped tomato) in guacamole later today. I've never used cooking pears before, but I'm planning to make this pear sauce for my two–year–old niece this afternoon. I'm looking forward to the smell of pear sauce simmering on the stove!
I don't have immediate plans for the rice, but we love jasmine brown rice, so I buy it when I see it.
Any experience with CSA markets? Check out Local Harvest to find a CSA program near you!