Read more about why I love CSA and locally–grown fruits and veggies here.
This week's CSA box brought to you by Mr. McGregor's garden: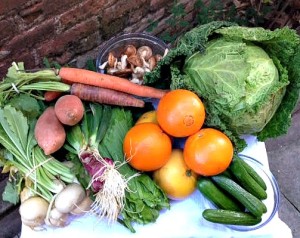 See what I mean?
That cabbage is so pretty it looks fake.
This week's box:
1 head of cabbage
2 sweet potatoes
1 bunch of turnips
1 bunch of carrots
1 bunch of mustard greens
1 bunch of red onions
1 bag of shiitake mushrooms
8 mini cucumbers
2 grapefruit (grapefruits? no? okay.)
3 navel oranges
1 pint of strawberries (hidden by the carrots)
All that fresh healthiness for $25.

A la carte items:
1 creole tomato
1 baguette
1 lb. of beef*
* I usually don't take pictures of raw meat, but I needed the visual reminder that CSA beef looks way better than grocery store beef.
My total was $41. The beef was a little more expensive than at the grocery store, but the more I hear about the meat industry, the better I feel about supporting local, independent farmers. Stepping off soap box now.
Here's what my meal plan looks like this week:
Monday: beef stew + extra veggies
Tuesday: leftovers
Wednesday: mustard greens quiche
Thursday: leftovers
Friday: wine & cheese
Saturday: TBA (as always)
You can tell I like a recipe when I make it again and again. You can tell I LOVE a recipe when I'm comfortable enough to change it up a bit depending on what ingredients I have on hand. For the beef stew, I'll be using Misty's recipe and adding other veggies, so that will take care of the beef, cabbage, turnips, carrots, and mushrooms. YUM.
I found this recipe for making quiche with various greens. I'm sure I'll change it up a bit—like using olive oil instead of coconut oil and only buying organic eggs if we win the lottery or something—but the recipe itself is basic enough for me to follow along. And I'll definitely be using a frozen pie crust.
For lunch this week, I'll make Ina Garten's quinoa tabbouleh, using the red onions instead of scallions. That will also take care of the cucumbers and tomato. And I'm thinking I'll put those sweet potatoes aside to make one of my favorite soups sometime soon.
Everything else? Snacks, my friend. You should see what's left of the baguette since drafting this post.
Anything delicious happening in your world this week? I hope so! Have a good one!