Might as well admit it. I'm in full–on fall baking mode over here. I go to the grocery, and it's like, "Give me all of your Libby pumpkin!"
I played around with pumpkin bread recipes over the weekend. I usually find pumpkin bread almost too moist, like there's too much oil in it or something, so I tried something new and figured I'd write it all down before I forgot.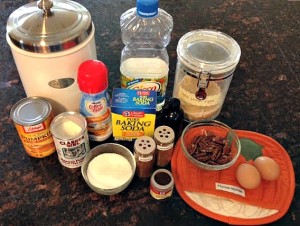 Ingredients:
3 1/2 cups flour
2 teaspoons baking powder
1/2 teaspoon baking soda
1 teaspoon salt
1 teaspoon ground cinnamon
1 teaspoon ground nutmeg
1/2 teaspoon ground cloves
1 1/3 cups packed brown sugar
3/4 cup pumpkin spice coffee creamer
1/3 cup vegetable oil
2 teaspoons vanilla extract*
2 large eggs
1 (15-ounce) can pumpkin
1/3 cup chopped nuts (I used pecans)
* I make my own vanilla extract. I know, right? Probably deserves its own post.
Recipe:
Preheat oven to 350. Line two loaf pans with parchment.
Mix all of the dry ingredients. With mixer set on medium, add the coffee creamer, vegetable oil, vanilla extract, eggs, nuts, and pumpkin. Mix for about 30 seconds, just long enough to get the pumpkin mixed in without over–mixing.
Pour into your prepared loaf pans.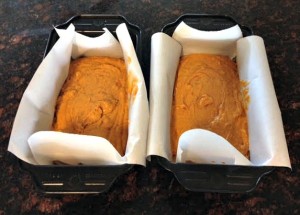 Bake for 40–45 minutes, testing for doneness with a toothpick.
Enjoy!