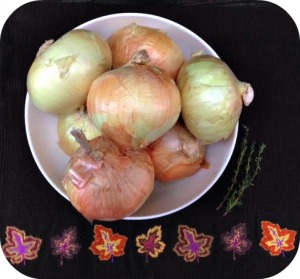 Well, this can only mean one thing.
French onion soup. Delicious. Decadent. Filling.
Did I mention easy?
Oh, yes. Don't let that "French" part fool you. This soup is one of the easiest recipes I know.
Ingredients:
6–8 sweet onions (my favorites are Vidalia onions)
6–8 cups of beef broth (1 cup for each onion)
2 tablespoons olive oil
2 tablespoons butter
Salt, pepper, thyme
1/2 cup dry sherry (optional, for deglazing pot)
Crusty bread and shredded Gruyere (for serving)
Recipe:
Heat the butter and oil until the butter melts. Chop the onions into strips, roughly 1/2 inch by 2 inches, adding them to the pot as you chop.
(Did you know that burning a candle near your cutting board while you chop onions keeps you from crying? True story.)
Once you've added all the onions, give them a good stir to get them coated in oil and butter. Add salt, pepper, and thyme. Cook for about 20 minutes, stirring frequently, until all the onions are soft and some of them start getting all brown and caramelized and amazing.
While the onions are cooking, slice the bread and top with shredded Gruyere. Pop under the broiler for a few minutes to get the Gruyere bubbly and melted.
If your pot needs deglazing, now's the time to do that with the 1/2 cup of sherry. Mine doesn't usually need deglazing, but I like adding the sherry anyway because it helps bring out the flavor of the onions. Or at least that's what I tell myself when I'm pretending to be a chef.
Add the beef broth, bring to a boil, and serve with a big hunk of that Gruyere–topped bread. Delish.
Even Better Holiday Advice
Okay, on to the holiday advice. Last night, I watched the recording of the Influence Network class Holidays & Families Without Losing Your Mind by Rach Kincaid.
Rachael shared Colossians 3:12–17, which talks about peace, love, gentleness, patience . . . all those things we want the holidays to be about but often get lost in the expectations our families set for us and that we set for ourselves.
By deciding that we will make the holidays about the peace of Christ—and by setting reasonable boundaries and treating people with grace—we can focus on that peace and love. I'm sure it's easier said than done, but I'm already looking at ways to make this my goal for this holiday season. I hope to share more about that in the next few weeks, and I'd love to hear your holiday advice.
My sweet friend Meg wrote a great post about Rachael's class. And you know what? The timing of our holiday plans worked out perfectly, and we're having dinner and coffee tonight. Instead of getting caught up in all of the things we think we have to do this week, Meg and I are choosing to do what we know is good for our hearts. I can't wait to talk to her about finding this kind of peace in our own holiday seasons and praying for each other to let that peace rule in our hearts.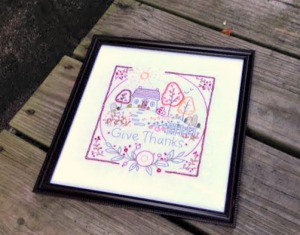 Here's my holiday sanity advice for the moment. It's not nearly as deep as Rachael's, but it's a step in the right direction!
Two or three days before the big holiday—that's today if you're thinking about Thanksgiving sanity—make a big pot of soup. Find an easy recipe (see: above). Make sure it's one you won't get tired of immediately (see also: above. wink). Then make a big pot of it, store it in the fridge, and reheat however many servings you need for your family for lunch and dinner every day until the holidays (and maybe even the day after).
Why the big pot of soup? Because it makes your life so much easier for those few days. You don't have to think about a meal plan, you don't have to cook, and you can even cut down on the number of dishes you have to deal with. (Want to use disposable bowls? Your secret's safe with me.)
It also gives you the opportunity to put time into other things—like curling up with a good book or a holiday movie—and even helps de–stress you when it comes to those unexpected hassles, like getting stuck in holiday traffic. Getting home an hour later than you'd planned? No cooking to do! Just heat up that soup. : )
Happy Thanksgiving, friends! I'd love to hear about your plans—what you enjoy, how you de–stress, which football team you're rooting for during your tryptophan nap . . . Tell me everything. And have a beautiful holiday.