As I've mentioned before, my One Little Word for 2014 is intentional. Now that it's back–to–school time, it's a make–or–break season for me in continuing the intentionality I've been working on this year.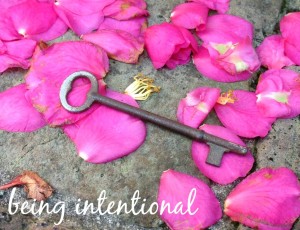 Here's how being intentional looks lately:
Health & wellness
This is a huge one for me. I've been making time for working out, which I have never done in the past. A yoga class here and there, sure, but an actual workout regimen? That I plan in advance and stick to week after week? Never.
I never made time for something so important to my health and well–being, and I justified it by telling myself I was too busy for it. Now that I'm being more intentional with my time, I've found times when I can exercise, and I've stopped making excuses to myself.
I've started going to Pure Barre 2–3 times a week, and I've committed to yoga classes 2–3 times a week, too. It was tough at first, but it's gotten easier, and I really look forward to classes.
Devotionals
I downloaded the She Reads Truth app as soon as it was available, but I'm still mainly using the website because the current plans aren't free on the app. I usually read it during lunch.
In the mornings, I've been sticking to Jesus Calling and journaling. On the days when I'm not teaching, I get a lot of time for devotionals between my morning Pure Barre and yoga classes. On the days when I am teaching, it's a bit of a struggle to get out of bed early enough for devotionals, but I'm working on it. It helps that it's a much better way to face the day than oversleeping and rushing out the door. ; )
Social media & other online platforms
I don't follow too many people on Twitter or Instagram, mostly because I'm brand new to the blogging community and add people as I find their blogs. The wonderful, encouraging Ashley Beaudin has started Firework People, a group of creative, inspired folks who work to motivate one another during weekly Twitter parties. I just love this group! We meet on Tuesdays at 9 pm Eastern. Join us tonight, okay? It's so much fun!
I'm also going to try to be more active with the Influence Network. I've been a member since December, and I love the online classes, the blog, and the people behind the network, but I'm always on the receiving end, never contributing. That's got to change. This month, I'm taking Heather Boersma's class, Renew Your Mind Daily. I'm going to make myself actually participate in the class chat—such a stretch for this introvert!
And the Influence Conference? All the good kinds of nervousness happening over here. Can't wait!