Friends, I'm thrilled to be sharing some big news with you today! I alluded to it in my post about how things will be different this year, and I thought I'd tell you a bit more about it today.
This fall, I'm starting a program called Education for Ministry. It's through the University of the South in Sewanee, Tennessee, but I won't have to leave my hometown because a priest at a local church is teaching it (my priest, in fact). It's kind of a satellite program with students all over, either enrolled in local seminars like I am or completing the program online.
There are lots of different ways to use what you learn in EfM: leading Bible studies, working with Sunday school teachers, collegiate ministry, you name it! It's also the program many Episcopal churches use for the deaconate. I'm not sure where my EfM journey will lead, but I know it's the right start for me.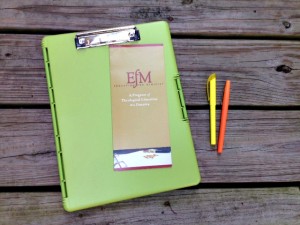 I'm sure I'll be sharing more about feeling called to serve, how I'm answering that call, and what I'm learning in EfM. I hope you'll join me in sharing all of the different ways we say, "Here am I; send me."
And can we talk for a minute about how cute my notebook is? Dayspring took my two favorite things—school supplies and Jesus—and came up with this little drop of delightfulness: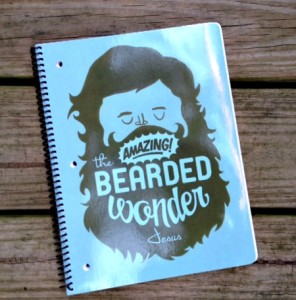 Thanks for reading and for being such a source of encouragement to me. I hope you'll say a prayer or two for me as I start this new, exciting journey!