Have you heard of Poshmark? It's an iPhone app you can use to sell your new and gently used clothing. I first read about it on a fashion blog and decided to give it a try. (Psst: You can read my Poshmark buying review here.)
When I read Unclutter Your Life in One Week, I worked on figuring out the reasons why I keep clothing and accessories I no longer wear. One of the major reasons was cost. If something was expensive when I bought it, I had trouble giving it away, even if it was something I no longer wore.
I overcame this hangup by selling items. I didn't plan to get the same amount that I paid for them, but it was easier for me to let go of expensive items if I felt like I was getting a little in return. I started with eBay, then branched out to Poshmark.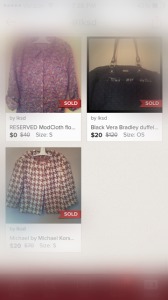 Poshmark Selling PROS
1. Chance to let things go
If you're like me and have trouble donating items that were expensive, Poshmark is perfect for you. I will offer you this piece of advice: Price to sell. Don't expect to get what you paid for the item, even if it's new with tags.
For example, in 2011, I purchased a Kate Spade bag from their sale for about $100. I used it regularly for a year or so, then only used it every now and then. I knew it was an item that needed to go, but even after owning it for 3 years, I still felt guilty about its price.
Enter Poshmark. I listed it for $25. It was still in great shape, and I knew if someone offered me a little less, I'd probably take it.
It wasn't about making $25; it was about being able to let go of an item I didn't use without the weird what–I–paid hangup.
2. Easy & user-friendly
This is such an easy app to use. You can list items in a matter of minutes. It does use a ton of your battery, so you have to be careful about not leaving it open when you aren't using it, but that's the only downside to the app itself.
3. Community
People are really wonderful about sharing items in your closet with their followers. And it's easy to share an item you like but maybe isn't your size or not what you're looking for at the moment. It's just nice, you know?
Poshmark Selling CONS
1. Only making 80%
This is one of those cost–of–doing–business deals. For items under $15, Poshmark keeps $2.95. For items over $15, Poshmark keeps 20%. You only make 80% of what the buyer pays, so it's something to take into consideration.
Let's use that Kate Spade bag example again. If I sell it for $25, I'm only making $20. If I'm serious about making $25, I've got to list it for $31.25. When you add Poshmark's shipping fees, that means a buyer is paying $36.25.
This is tough because I thought $25 was a fair price for the bag, but in order for me to make that, the buyer is paying over $10 more than I thought was fair. See what I mean?
2. Shipping
Poshmark is great at telling you how their standard $4.99 shipping is such a deal. Here's the truth: It's not.
They make it sound like calculating shipping for different items is really difficult. They also insist on using Priority Mail 2 Day Shipping through the US Post Office. I can see how that might entice buyers—thinking they'll get their item in 2 days—but if the seller doesn't ship immediately, the buyer isn't receiving the item in 2 days anyway.
I'm not sure why Poshmark does their shipping this way, but my guess is that it's easier on them. It's certainly easy on the seller to receive the prepaid label via email, so I can't complain about that.
Even so, I didn't realize how overpriced their shipping was until a postwoman pointed it out to me. I was dropping off a package at the post office. I handed it to the postwoman and said, "This is already paid for and ready to go. I'm just dropping it off."
She placed it on the scale—I guess out of habit—and looked at the prepaid label. "Five pounds?!? Why in the world did you pay to ship five pounds? This doesn't weigh nearly that."
I was surprised because I was shipping a bundle (pants + dress + scarf), and I had no idea how much it weighed. I told her it was a prepaid label, but I asked how much the shipping should have been. Her answer? $2.64.
Yikes, right?
Most of my sales were for one item only, so I'm assuming they would have been even less to ship.
3. The waiting game
Remember that Kate Spade bag I listed for $25? It sat on Poshmark for months. It got tons of likes and shares, and I listed it in every Posh party it matched, but it didn't sell. I had several people ask about it in the comments, and they all said they were interested in buying, but no game.
That can be a bit frustrating, especially if you negotiate with someone in the comments, lower the price on the listing after negotiating, and then the person never buys. You can change the price back, of course, but other interested buyers need only to read the comments to see how low you'll go.
You have to be willing to wait for an item to sell. For me, this was difficult. I've mentioned the lack of storage in my apartment here, so it should come as no surprise that I have nowhere to store what I'm trying to sell.
This is one of the reasons I prefer listing certain items on eBay. I list everything on a Sunday afternoon so the auction ends the following Sunday afternoon. I've heard that's the best timing of items based on eBay high traffic times, and it's been the case for me so far.
True, you have no guarantee the item will sell on eBay, but so far everything I've listed has sold. I ended up taking the Kate Spade bag off of Poshmark and listing it on eBay, setting the reserve at $25. Sure enough, it ended up selling for a little more than that, and it only took a week.
Because of situations like this, I use a combination of eBay and Poshmark. I list something on eBay, figuring if it doesn't sell in the week–long auction, I'll list it on Poshmark. But I've started setting my own time limit on Poshmark items, too. If something doesn't sell in, say, 6 weeks, it gets donated. I simply don't have the storage space to keep it around.
Well, there you have it. My take on selling on Poshmark. I plan to write another post about my experiences buying on Poshmark,* and I hope you'll share your experiences in the comments.
*Update: Read my Poshmark buying review here.