Missed my first venture into Project 333? It's here. Read about my Summer 2014 picks here.
Halfway through another Project 333 wardrobe, and I'm still loving it and learning so much!
A few things I'm discovering
I've pretty much lost the desire to shop. Crazy, right? I've mentioned before that I'm not a shopaholic by any means—I don't even like shopping in person, only online—but even the online thing is getting boring. Turns out I simply don't need to add anything to my wardrobe, so shopping online is just a waste of time.
Also, I've worn everything on the list so far except for the black maxi dress. I think I'll be wearing it next week, though. In any case, I love maxi dresses but don't wear them that often, so I won't be adding any new ones to my wardrobe anytime soon. I'll stick with the 2 that I have and love.
It seems like all of my blogging friends are getting excited about the fall, and I certainly am, too, except that they're all in spots where there are hints of fall in the air. Around here, it's 92 degrees and humid, and it will be for another month or so. I know, right?
BUT I'm still excited about fall, and I'm pairing pieces from my 33 to reflect the transition from summer to late summer.
Take this spring / summer favorite, for example:
To make it less light and bright and early season, I paired it with a chambray shirt. I still have the summer–y pop of pink, but the shirt makes it feel more like Labor Day instead of Memorial Day.
I'm no fashion blogger, so forgive the lack of poses / facial expressions. I have been taking school pictures for the better part of my lifetime, however, so I've got that look down pat. You're welcome.
A few things I'm loving
You guys. It's easy. It's just so stinkin' easy.
No stress about clothing or laundry. No days when I'm wearing something I like but doesn't *quite* fit right, so it makes me uncomfortable in the long run. No morning meltdowns because I have a full closet but nothing to wear.
That's reason enough to stick with it, don't you think?
A few switcheroos
I purchased some really cute palazzo pants before we went to Asia, but they shrunk significantly in the wash—even though I washed them in cold water and let them air dry! I put them on and looked like Huckleberry Finn had assisted me in my fitting. Really weird. They were switched in and immediately switched out.
I stopped at my favorite thrift shop for some kitchen stuff turned craft supplies, and I spotted this nearly new Ralph Lauren blue–and–white striped oxford for $6. Couldn't pass it up.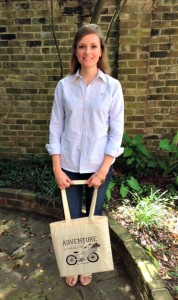 By the way, I put on these jeans just for the picture so I wouldn't blind you with my pasty white legs. I wore them for all of 5 minutes outside, and I now know what the surface of the sun must feel like.
Well, that's the latest. I'll be sure to post some end-of-season thoughts in September, and I'm already looking forward to my October–November–December list. What about you? How are your 33 items working this season? Any plans for the next one?