Read more about why I love CSA and locally–grown fruits and veggies here.
This week's box:
cherry tomatoes
blueberry jam
1 cucumber
3 eggplants
4 red potatoes
mixed fresh herbs
okra
2 zucchini
A la carte items: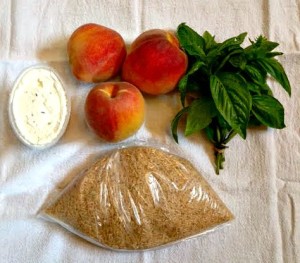 the best fresh chevre I've ever had in my life
3 peaches
basil
brown jasmine rice
My total was $41. Not bad for so much freshness.
Here's what my meal plan looks like this week:
Tuesday: eggplant parmesan
Wednesday: leftover eggplant parmesan + fried okra
Thursday: sauteed zucchini + chickpeas over rice
Friday: wine & cheese
I'm planning to make this for lunches to use up the tomatoes and cucumber and maybe a little of this over the weekend if we decide to grill something. And the blueberry jam is already a favorite for biscuits in the morning or with a little vanilla ice cream after dinner.
Any favorite end-of-summer fruits or veggies?