Read more about why I love CSA and locally–grown fruits and veggies here.
This week's box in TWO pictures because it's overflowing:
kalettes (no clue? me neither. more here.)
chard
collard greens
bibb lettuce head
kale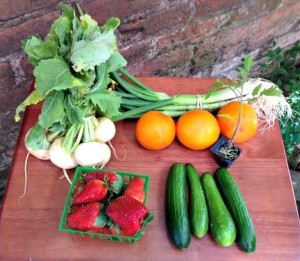 green onions
turnips
3 navel oranges
4 English cucumbers
1 pint of strawberries
1 tomato plant starter
Greens, greens, and more greens for just $25.
A la carte items:
1 whole chicken (not pictured)
1 mint plant starter
Given my every–color–but–green thumb, I'm thinking the tomato and mint will last 2 weeks, tops. Sigh.
The chicken was NOT cheap, y'all. I'm continuing the fight against Tyson, but it's a tough one. My total was $45 (and it wasn't the mint's fault, I promise).
Here's what my meal plan looks like this week:
Monday: roast chicken + lentils and roasted veggies over rice
Tuesday: leftovers + kalette chips while we watch a movie
Wednesday: baked potato soup + steamed veggies
Thursday: leftovers
Friday: wine & cheese
Saturday: TBA (as always)
I'm snacking on those cucumbers, oranges, and strawberries, and I'm thinking about having a bibb lettuce salad with some orange and strawberry slices for lunch. Delish.
Is it just me, or do the kalettes sound like the cheerleading squad for the mighty kale football team? Yes, just me? Okay.
Anything yummy going on in your world this week?