Here's the follow–up to yesterday's post about packing for 18 days in Asia. I won't be blogging much while we're gone, but I hope you'll virtually tag along with me via Twitter and Instagram. : )
These are the clothing items I'll be packing. You'll see that everything here is on my Project 333 list except for the navy long–sleeved tee and the palazzo pants (and the layering tanks because I don't count those). I talked a big game about that 333 list including everything I needed for this trip, and then I walked into Marshalls and found The World's Most Perfect Palazzo Pants, so everything changed. C'est la bargain–hunting vie.
2 dresses: navy and grey jersey
3 long–sleeved shirts: navy striped, navy, and chambray button–down
2 short–sleeved shirts: navy and grey
2 tanks: navy and black
1 Turkish bath towel
1 swimsuit
1 pair of khaki shorts
1 cardigan
1 pair of khaki jeans
1 pair of palazzo pants
2 pairs of shoes: Birkenstocks sandals and Toms
You should know that I was wearing Birks long before they were on the Sartorialist. Always fashion–forward over here. Always. ; )
Everything I'm packing works with everything else. I can wear all 7 of the tops with the khaki shorts and jeans, and I can wear 6 of the 7 tops with the palazzo pants (not mixing stripes and print, apologies if you're into that sort of thing). The cardigan works with almost all of the pieces, as do both pairs of shoes.
Our flight to Hong Kong is 16 hours long, and I want to be comfortable, so I'll be wearing the palazzo pants, navy tank, and chambray button–down (unbuttoned like it's the late 1990s).
The Turkish bath towel is one of my favorite travel items. I wear it as a scarf, use it as a blanket on the plane, and have a quick–drying towel on hand whenever I need it. I have this one and it is fabulous.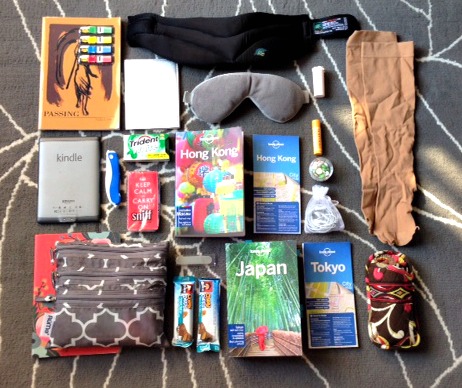 Here's the other stuff I'll be packing:
Analog book + Post–It tabs (teachers have to do the summer reading they assign, too)
Passport
Eyemask
Earplugs
Compression socks (I've asked every single doctor I've ever come in contact with if I need to worry about deep vein thrombosis, and every single one has assured me I don't. So what do I do? Freak out unnecessarily and wear compression socks on airplanes, of course.)
Kindle
Travel toothbrush
Gum
Tissues
Travel guides & maps
Lip balm
Medicine
Earbuds
Journal
Emery board
Snacks
Sunglasses
My husband packs the chargers, plug converter, and all of the necessary travel documents.
Here's how it all fits into those packing vessels I described in excrutiating detail yesterday: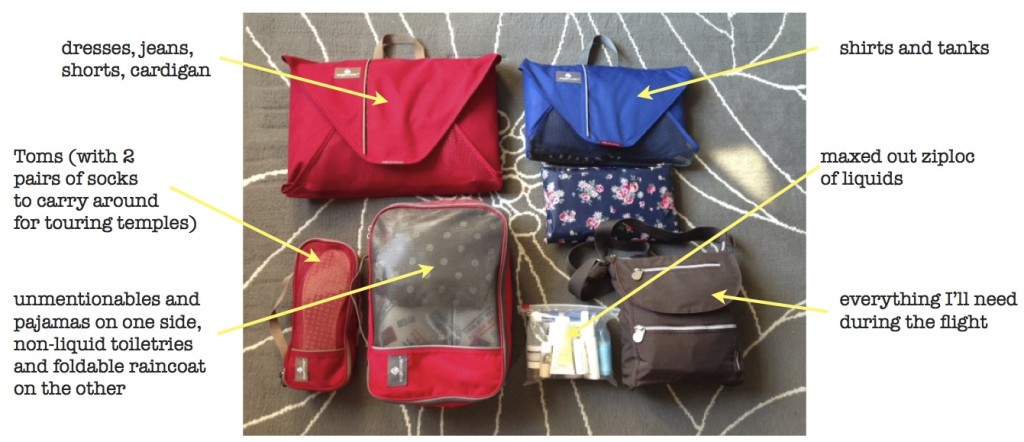 And here's how everything fits into my bag: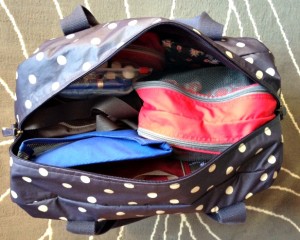 It weighs a sweet 17 pounds, so I can carry it pretty easily and get to everything I need.
Well, I guess that's it! Any last–minute packing / traveling advice? Sayonara, friends! Be sure to check out my international shenanigans on ye olde InstaTweet.