Read about my other Project 333 adventures here.
Can you believe it's time for another round of Project 333? I love how this experience has changed my shopping and dressing habits for the better. I hope you'll join me this season—the holidays are the perfect time to limit your clothes spending!
My version
Just like my spring and summer items, my autumn items include clothing only, not shoes or accessories. I'm not counting those in my list of 33.
I'm also not counting clothing for dressy events. I have 4 dresses for dressier–than–everyday occasions, and I think that's a reasonable number. Rather than choose what I'll wear for those events now, I'm only counting everyday items in my list of 33.
My list
5 pairs of pants: khaki jeans, blue jeans, black jeans, khaki cords, navy cords
1 skirt: floral print
6 casual dresses: black maxi; 3 jersey in grey, navy, and black; chambray; navy floral
6 tops: button–downs in blue–and–white striped, white, blue, chambray, and berry; floral henley
3 tees: navy and cream striped, navy short–sleeved, navy long–sleeved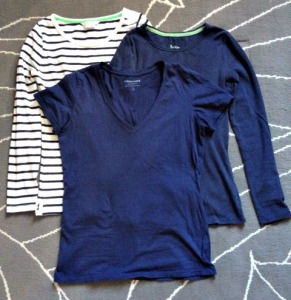 Is there an award for most times the word "navy" was used in a blog post? If so, should I nominate myself for it?
5 cardigans: cream, grey, red, black, navy striped
I like how the navy striped one is doing a little Michael Jackson move.
5 sweaters: navy, grey, black, pink, navy striped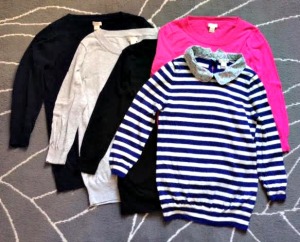 Yes, these are all Charley sweaters from J. Crew Factory. I wish I had an explanation.
1 green cargo vest
1 pair of khaki shorts
Truth be told, I was more worried about this list than the first two. I knew I would wear a lot of the same stuff during the summer, when I didn't have to go to work every day, but I wasn't so sure about the fall. Seriously, I just love fall clothing. But you know what? I love these 33 items the most! And Project 333 is all about figuring out what works best for you.
Are you trying Project 333 this season? Please share your thoughts and links to your 33 items! I love getting inspiration from other 333–ers!