Since April 1, I've been participating in Project 333. You can read about my altered rules and my list of items here.
I'm happy to report that Project 333 is even better than I expected!
At first, I was nervous that I would feel as though I didn't have enough options or that I had to wear the same thing over and over. Curiously enough, I didn't worry that anyone else would notice or comment on my wearing the same thing; I worried that I would get bored with it.
At this point, I'm not sure what I was thinking. 33 pieces of clothing = plenty to work with. Plenty.
I love the advice in this post about creating a cohesive wardrobe. And if the advice isn't convincing enough, check out how easily Natalie was able to make 33 outfits with her items. I didn't really think about making my closet cohesive when I planned it, but it happened by accident because I tend to gravitate toward neutrals and navy blue.
Now that I think about it, approximately 80% of my wardrobe is navy blue. Is that weird?
In any case, I ended up with a wardrobe of navy and neutrals, plus springy pops of color, especially mint and coral. I'll be sure to plan for this cohesiveness in future Project 333 wardrobes.
A few things I'm discovering
1. I don't need a ton of options to make getting dressed easier; in fact, having fewer options is actually easier than hundreds. I compare it to planning dinner at the grocery store versus planning dinner in your kitchen. At the grocery store, it's easy to get overwhelmed by all of the options. You start thinking of every recipe you know, wandering all over the place to get what you need, wondering which ingredients you have waiting in your cupboards at home and which you need to pick up. In your kitchen, you're more willing to work with what you have and you can see all of your options at a glance. Project 333 is like that.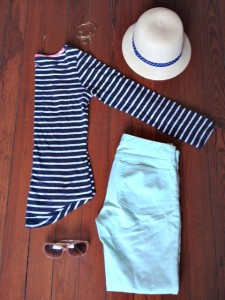 2. Wear it again. And again. And again. Those jersey dresses? They're practically my uniform. I love how they fit, I love how they feel, and I love that I look put together in a matter of minutes. And guess what? I can wear them over and over, and no one notices. I'll change up scarves, throw on a jean jacket if it's cool, wear different sandals—and it's like a new outfit every time.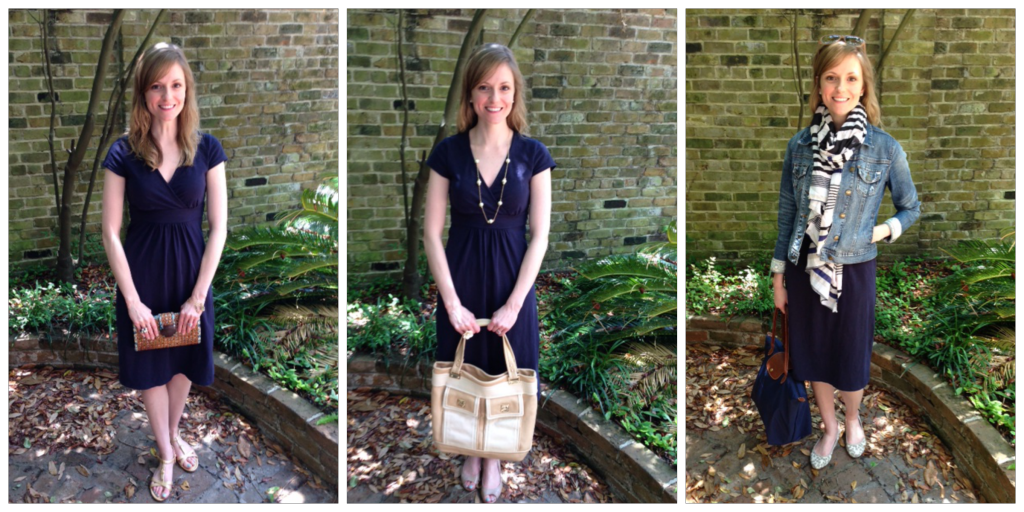 3. Different pieces work together in ways I didn't realize. The outfit below is a perfect example of this. This is one of my favorite skirts, one that I usually pair with a chambray button-down or plain white tee. But Project 333 helped me work it differently. I've received so many compliments on this outfit, and it is one of my favorites now.

Legs are Sherwin–Williams Westhighland White,
if you were wondering.
A few things I'm loving
1. The extra space. I was excited about clearing some space in the closet I share with my husband, but I didn't think about how much space I'd have in my dresser drawers. When everything's neatly folded and put away, it kind of looks like something in a magazine.
See what I mean?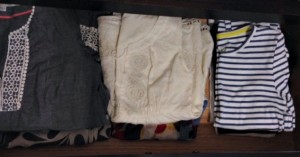 2. Streamlined laundry. I still can't figure out exactly why this is happening, but my laundry situation is much less overwhelming these days. Maybe it's because I'm operating with fewer pieces so I don't wait as long to do a load. Or maybe it's because I have fewer pieces so I'm not wondering if something's lingering in the bottom of the hamper or just crammed out of sight in a drawer somewhere. In any case, I already had this weird love of laundry, and now it's even more fun.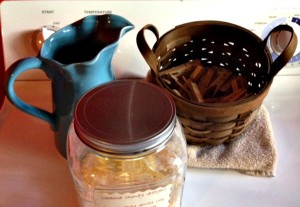 3. Focusing on other things. This is something else I didn't expect. I've never been too *into* clothing, if you know what I mean. I like to look nice, but I've never considered myself especially trendy or fashionable or even fashion–focused. So when I started Project 333 and read about how spending less time thinking about clothing would give me more time to think about other things, my immediate reaction was, "Oh, that must be cool for those fashionable people who think about clothing all the time. I'll kind of miss out on this advantage."
Wrong. Little did I know, I thought about clothing more often than I realized—usually stressing out about not having anything to wear or having too much to wash or fold or iron. One of my favorite things about traveling is feeling free from that stress; I know I'll be fine with whatever's in my bag. Project 333 is kind of like that. I'm working within a comfortable limit, so I'm free from the stress associated with having too much.
And I have to say I've gotten even more ruthless with paring down and donating. I'm learning to let go of the *just in case* stuff and focusing on the stuff that would make the 333 cut.
A few switcheroos
I mentioned in my plan that I might switch out a few pieces if I felt the need. So far, I've only done that with three pieces.
Remember how I was worried about having only two dresses for weddings and other events? I ended up switching the pink cardigan for this little number.

I always feel a little "Here's to you, Mrs. Robinson" in this one.
I also realized I hadn't worn either of the button-down shirts. I included two on my list because they're usually my go-to items, but I'm thinking that's more of a fall / winter thing for me. I swapped them for these two additional pairs of shorts.

I rarely wear those flowered ones because I get a bit self-conscious in short shorts, but they were perfect for the beach weekend with my friends. : )
Well, that's the latest. I'll be sure to post some end–of–season thoughts in June, and I'm already looking forward to my July–August–September list. What about you? How are your 33 items working this season? Any plans for the next one?