Read more about why I love CSA and locally–grown fruits and veggies here.
This week's box: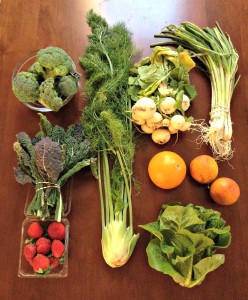 broccoli
dino kale
strawberries*
fennel
turnips
green onions
grapefruit
2 blood oranges
lettuce
* Can we talk for a second about the cartwheeling and dancing that goes on in my household when strawberries are back in season? It's embarrassing. You should see what goes on for summer squash . . .
A la carte items:
Brussels sprouts
brown jasmine rice
2 creole tomatoes
garlic & onion spreadable cheese
These items all scream springtime to me, and I couldn't be any more stinkin' excited about spring. I know the cool thing out there is to be all about autumn—and I love autumn, don't get me wrong—but spring is totally my season. Longer days, warmer weather, crawfish and strawberries, napping during an afternoon rain . . .
My total was $41 and some change (because that's a ton of rice, btw).
Meal plan:
Hmm. Okay, this week's box is not so much for a meal plan as it is for a classic lazy–but–healthy move.
The strawberries are for snacking, and the creole tomatoes + lettuce + cheese will make yummy little salads.
I cut up the grapefruit and blood oranges and froze them in a big ziploc bag. I like to make flavored water by adding a few frozen citrus slices (they thaw, thank you, science) and some fresh mint from the garden to a big pitcher of water, then sort of muddling it all together.
I hope that the rice speaks for itself.
As for everything else, I cleaned and chopped and added it all to a big roasting pan with a little drizzle of olive oil and some salt + pepper, then roasted it (375 for 20-30 minutes, stirring occasionally). I add a can of drained chickpeas during the last 10 minutes of cooking, then eat this stuff over rice for quick, healthy lunches and as a side with grilled chicken for dinner.
Any other spring-lovers out there?
PS: Did you know this little diddy is actually Shakespeare? True story. Stick with me, and I'll teach you all kinds of useless information. ; )