Read about my Autumn 2014 picks here and my other ventures into Project 333 here.
You guys. This is not so much an update as it is a total lack of an update. In fact, it's not even much of a blog post, and I can't understand why I'm writing it at all. Aren't you glad you read this blog?
Thankfully, this whole Project 333 thing is becoming less of an experiment and more of a normal part of my day–to–day.
I've mentioned before that I started losing the desire to shop shortly after starting this experiment. Now that I'm more than halfway through my first year of it, I've completely lost that desire. I was never a big shopper before, but I was guilty of clicking on those sale emails—you know, just to see if there was a deal I couldn't pass up—and wasting time by checking on the newest J. Crew Factory items or what Boden had on sale.
(In the interest of full disclosure, I went to see what Boden had on sale right after I typed that. June was the last time I visited their site. June, people. And I didn't buy anything then or just now. But I digress.)
Now that I've realized that I don't need 100 items to feel like I have enough to wear, I've noticed other changes in my approach to shopping, getting dressed, even packing for trips.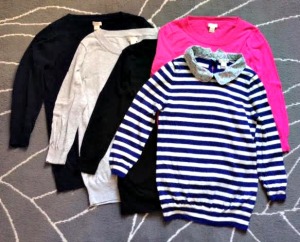 A few things I'm discovering
I wear the same thing over and over, and it doesn't bother me. This is especially easy given my part–time teaching schedule because I can wear something to teach one day, then wear it again to run errands or whatever I have going on the next day. No biggie.
My favorite clothes tend to fall into what Rachel calls "comfortably dressy," and figuring this out has helped me narrow down items I know I'll love and wear all the time as opposed to items I think are pretty but don't need to own.
Also, I love saving money! Because I wasn't a huge shopper before, I never thought of clothing as a part of my budget where I could cut back very much. But now that I'm not buying those few random sale items every month, I'm actually saving where I didn't think I could. And we're starting the house–buying process, so I'm extra proud of myself for this.
A few things I'm learning
I cannot wear cap sleeves. They look ridiculous on me. This may seem random, but it's a life lesson it took a while for me to learn, and I need to document it somewhere as a reminder to my future self. Future self, you've been warned.
I take good care of clothing, especially when it comes to air drying and mending. My ancestors would be proud.
Comfortable shoes don't have to be ugly, and it's worth it to spend more on one good pair of well–made shoes than the same amount on a couple of cheap pairs. (I know, I know. I'm, like, the last person on the internet to learn this.)
Scarves. Oh, scarves. Before I start sounding all self–righteous and like I've got everything figured out because I've cut down my wardrobe to 33 pieces per season, let me tell you that I could own 600 scarves and still think I needed a few more.
Well, that's the halfway update! I hope my end–of–autumn recap will be more exciting, but no promises. What about you? How are your 33 items working this season?